By Tessa Barratt
The Bottlebrush is a well-known and iconic plant among Australians. Named after its resemblance to a bottle cleaner, the genus Callistemon contains around 50 species (depending on who you ask), each with their own unique beauty. As a taxon, Callistemons have attracted great debate among botanists, with some arguing that they are, in fact, melaleucas, although this has not been universally accepted. Whatever their botanical name, they are a familiar and versatile plant in the garden.
Callistemons vary in size, from shrubs to trees and produce flowers in a wide range of colours, including cream, yellow, red, purple and even pink. Some of them are very rare in the wild, known only from a few populations, and Wildplant Rescue stocks some of these special beauties, notably Callistemon megalongensis and Callistemon purpurascens, both of which are listed as critically endangered and occur within the Blue Mountains. I have two C. purpurascens, both planted as tubestocks 2 years ago, which have grown very well in the more shaded and sheltered parts of our property.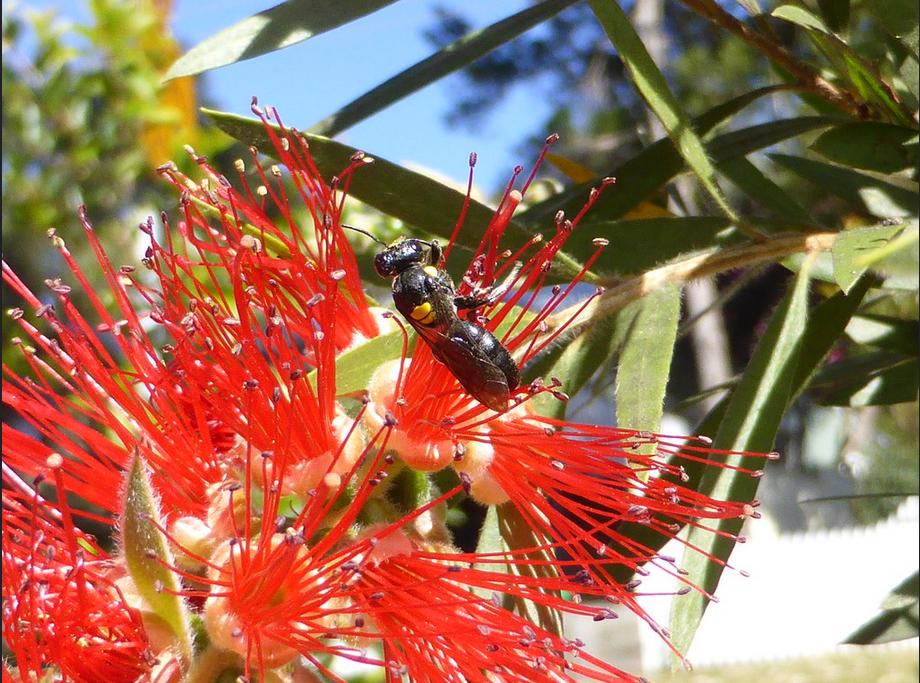 Masked Bee (Amphylaeus morosus)
While Callistemons can be found along the coast and ranges of both sides of the country, the majority occur in the east and south east of Australia. They are a magnet for a wide range of wildlife, including birds, marsupials, bats, native bees and butterflies. In my personal observations, I have seen a range of honeyeaters enjoying the plants in my garden, as well as stunning butterflies like
the Common Jezebel (Delias nigrina).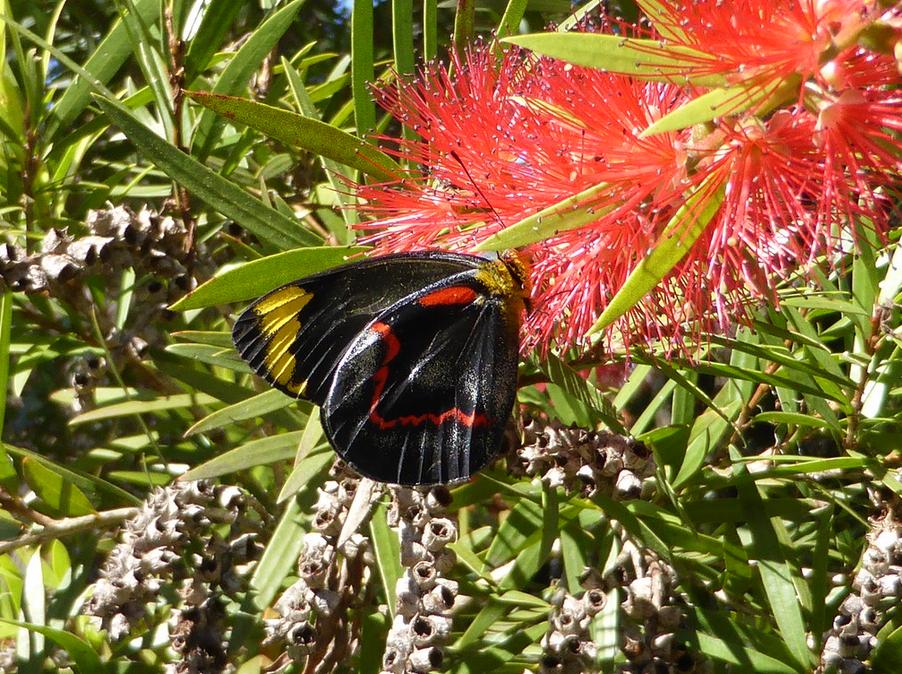 As a macro photographer, I spend most of my time peering into flowers to learn which arthropods are enjoying them. I have so far encountered honeybees (Apis mellifera), Sugarbag bees (Tetragonula carbonaria) and a few species of Masked bee making use of the flowers. This intrigued me, as I had often heard it said that "bees cannot see red". This is true in the sense that research on honeybees shows that they are trichromatic and lack the receptors to visualize red as we do. However, they can also see ultraviolet light and are able to pick up on UV markings in the flowers that we cannot see. I wonder what Callistemons look like to our different bee species?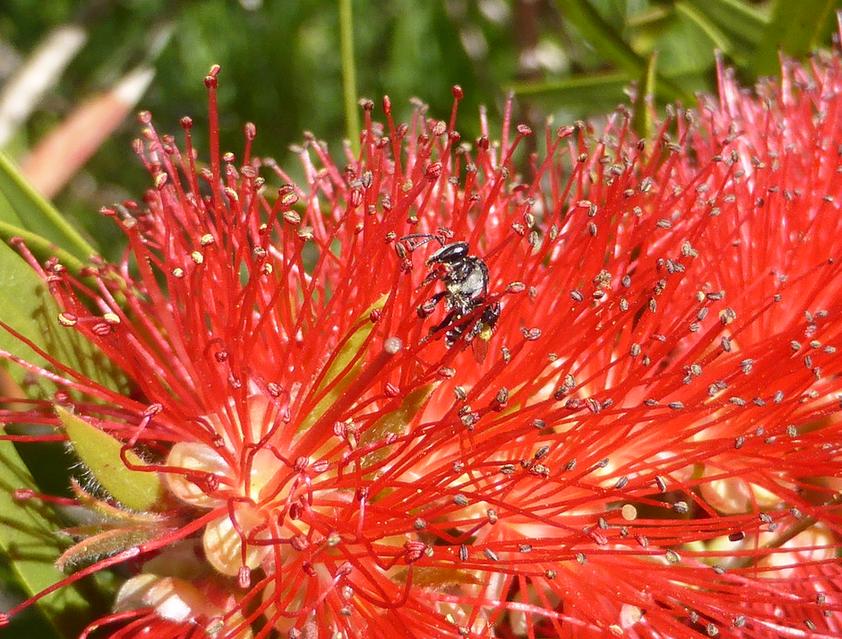 Sugarbag Bee (Tetragonula carbonaria), a native stingless bee
Callistemons are very versatile plants and can be made into hedges, an example of which can be seen along the IGA carpark in Springwood. They can also provide shade, such as Callistemon salignus, which can grow to 10 meters and attracts birds such as Rainbow Lorikeets along with bats and beetles, to name a few.
My favorite of the Callistemons is the Crimson Bottlebrush (Callistemon citrinus). These plants don't get too large (3-4m) and, if kept well watered, may flower twice in the year; at the end of November and at the end of March, providing some much appreciated autumn colour. They have exquisite new foliage, which is red and soft to the touch, and they provide homes for a wide range of arthropods. A few plantings of these shrubs will make a safe haven for little birds, and you might notice an increase in Superb Blue Fairy Wrens. C. citrinus grows along creeks and swamps in the wild, and prefers a partly shaded site, although they can handle full sun. They like moisture, so if you're looking for a plant that can handle all the rain we have been having, this is the one for you!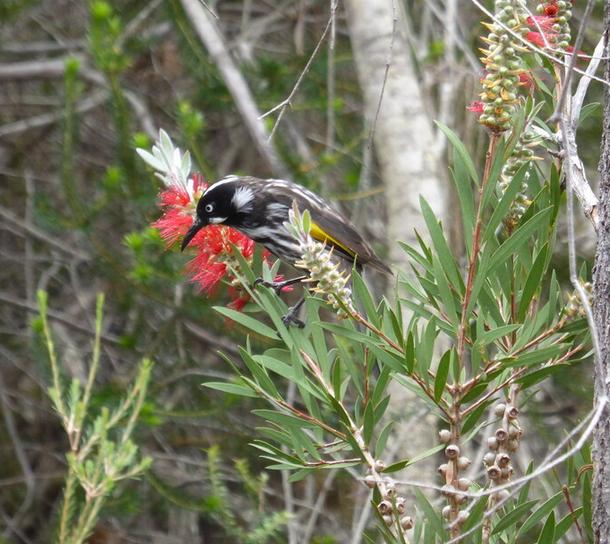 New Holland Honeyeater (Phylidonyris novaehollandiae)
Bottlebrushes really do offer something for anyone. I prefer to source my plants from native nurseries like Wildplant Rescue because they have grown in the same conditions I'll be planting them in (as a resident of the area), and because they aren't cultivars which can cross pollinate and weaken the wild Callistemons of the region - a problem for our OG native plants.
For hardy, beautiful plants that will bring a wide range of wildlife to the garden, I cannot recommend them highly enough. Given that many flower in the summer, now is a great time to add one to your garden!
Tessa Barratt